Exceptional Pain Relief With SCENAR Therapy Auckland
Here at Back Pain Auckland, we're one of the leading clinics in New Zealand to take advantage of SCENAR Therapy as a frontline treatment technique.
By using SCENAR treatment, you can expect fast and optimal recovery from injury, an immediate reduction in pain without painkillers and an improved quality of life, all without invasive procedures.
Learn more about SCENAR Therapy below and how it can be an effective treatment for your back pain.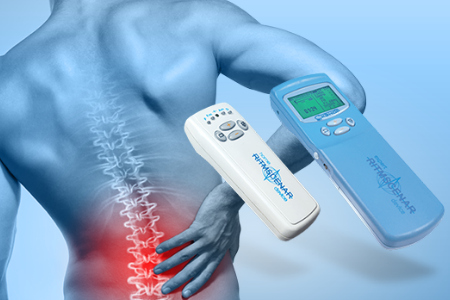 SCENAR Therapy and Your Back Pain
Scenar
What is SCENAR Therapy
SCENAR, standing for Self Controlled Energo Neuro Adaptive Regulator, is a small medical device that sends electromagnetic pulses through the skin to your brain.
It's an entirely non-invasive technique that uses computer-modulated feedback and allows your body to recover quickly by applying its own healing capabilities.
Unlike painkillers, which prevent the brain from acknowledging and healing injuries, SCENAR Therapy doesn't mask pain.
Instead, SCENAR Therapy works with the brain and central nervous system to focus the brain on sending healing hormones and chemicals to the injury site. Thus, it's much more effective in promoting healing than other medicines.
How Does SCENAR Therapy Work
When a SCENAR machine is held against the body, it emits short electromagnetic pulses or waves from an electrode through the skin. These electric pulses travel along the central nervous system until they reach the brain. As these pulses are very similar to the body's same nerve signals, the brain is able to 'read' the pulses and then send back communications to the affected part of the body.
While this conversation is occurring, the nervous system is told to generate Neuropeptides, the body's main biochemicals, to heal itself. This 'conversation' between the SCENAR machine and your brain continues until homeostasis (stability) is achieved.
It's important to understand that when an injury occurs, a healthy brain will send the same sort of communication to the brain to begin the same healing process. However, the problem lies in long term injuries.
If your body doesn't heal fast enough, your brain will start ignoring pain signals and will even re-train itself to believe these signals are expected. Thus, your injury becomes chronic.
SCENAR Therapy more or less restarts your brain's communication with injury and reminds it to continue with the healing process.
Benefits of SCENAR Therapy
The main benefit of SCENAR Therapy is its ability to aid the body in healing while using the body's own healing process and tools. Other benefits include:
It can be used to treat a wide range of injuries, pain and physical dysfunction
Works for both acute and chronic pain
Reminds the body to self-heal, even after treatment has finished
There are little to no side effects of SCENAR Therapy
The process is pain-free and non-invasive
There is no possibility of overdosing
Besides these significant benefits, SCENAR Therapy also allows therapists to start treatment immediately, without waiting for swelling to go down.
Your recovery process will also start immediately, be treated more frequently, and after just three sessions, you will begin to see changes in your level of pain.
On top of this, you'll notice both local effects when your skin, blood and muscle vessels are stimulated, as well as harder to notice effects such as increased immune system health.
What does SCENAR treatment feel like?
SCENAR Therapy causes little to no additional pain and instead relieves it. After a consultation and briefing, your practitioner will begin to slowly move the handheld device across the skin of your affected painful area. The sensation is similar to a pricking or tingling sensation, and while it may cause slight discomfort, it will not be painful.
As the intensity of treatment can be altered without reducing the therapeutic effect, you can rest assured you won't have to endure a painful treatment session. In fact, sometimes you won't feel anything, but the treatment is still working. This allows SCENAR treatment to be used for a range of ages, including children.
While extremely rare, if you do feel any pain during treatment, be sure to let your practitioner know immediately.
SCENAR Therapy History
The use of SCENAR Therapy devices dates back to the late 1970s when Soviet doctors first noticed the unexpected treatment properties of the technology.
Over the next decade, the device was improved and upgraded and by 1986, it's rumoured the USSR Space Agency was using SCENAR Therapy to treat cosmonauts during space travel.
 Now, SCENAR Therapy is used on all five continents and in more than 30 countries, including New Zealand, Australia, the United States, Canada and many European countries.
While the science behind the device hasn't changed, the technology and design of the handheld device have continually improved to get the best feedback response possible.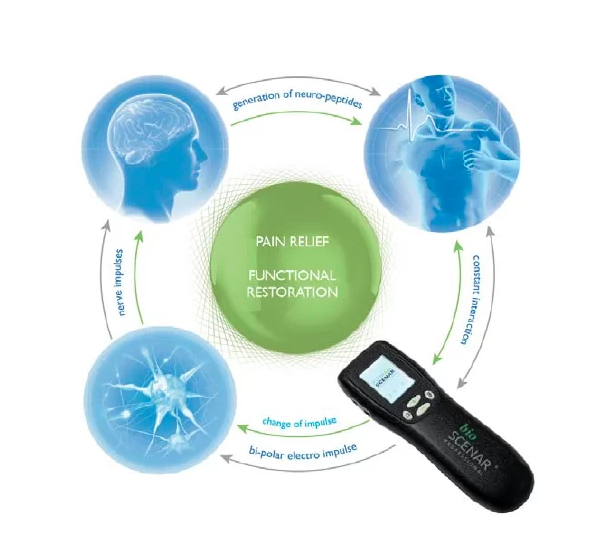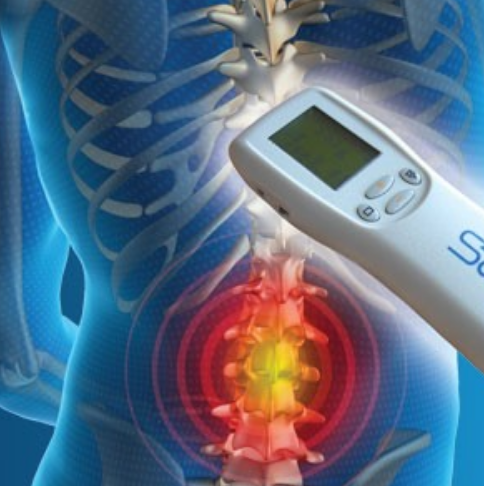 Quick relief from acute pain, including back pain, neck pain, headaches, muscle and joint pain
Healing of sport injuries
Improvement of musculoskeletal pain and/or dysfunction
Improve sleep which can fix chronic fatigue syndrome and low energy conditions
Lower back pain, neck pain and shoulder pain
Testimonials
SCENAR -What People Are Saying
I developed problems with my left knee over a period of months. It became painful to walk long distances, go up and down stairs and put any weight or pressure on that leg. The pain was also affecting my exercise regime. Shane suggested we try Scenar Therapy.
Although I was a little sceptical, I was very encouraged by the effect. Over the next 24 hours there was a definite reduction in the pain. I was able to move more freely and going up and down stairs, something I have to do multiple times each day at work, was no longer an uncomfortable or painful experience.
Repeated treatments increase and extend the benefits. Definitely worth trying the Scenar machine.  
I have had ongoing old sports injuries that have plagued me. I was unsure if Scenar Therapy was the right type of treatment for me, however after the first treatment I was pleasantly surprised.
I had a noticeable reduction in pain and my movement was much improved. After several successive treatments my pain has dissipated. I can highly recommend this treatment.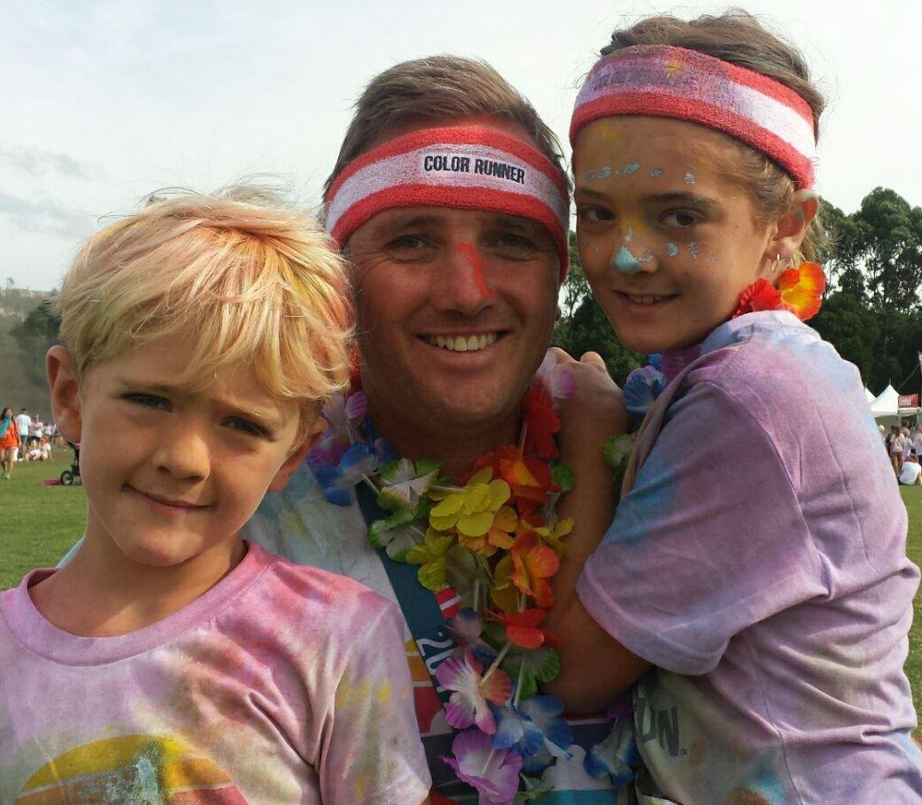 Is SCENAR Therapy Painful?
SCENAR Therapy is not painful. As your physio slowly moves the handheld device across the skin of your affected painful area, you will notice a prickling or tingling sensation. It may cause slight discomfort but will not be painful. Your physio can also adjust the intensity of the treatment if you are feeling discomfort.
What conditions is SCENAR Therapy used for?
SCENAR Therapy can be used to treat acute pain, chronic pain, sports injury, gastrointestinal conditions, wound healing, musculoskeletal problems and fatigue or low energy conditions. If you're unsure if your condition is a good fit, simply book an initial consultation, and your physio will discuss if the treatment will be effective for you
What conditions is SCENAR Therapy not used for?
If you are pregnant, are prone to seizures, have an acute infectious disease, or have cardiac pacemakers or defibrillators, it is not recommended to use SCENAR Therapy. On the other hand, if you have pins, plate or screw implants or have had joint replacements, SCENAR Therapy is safe for use.
How Many Scenar Treatments Will I Need To Feel The Effects
The number of treatments you will need to begin to feel the effects does vary. While some may feel instant pain relief, others may need to come back for multiple treatments to feel pain relief. However, on average, after three sessions, you will begin to see changes in your level of pain.
 Some factors that will determine how long it takes to feel the effects include how old your injury is, what type of injury you have, how severe your injury is, and your general health, diet, and age.
 We usually recommend once or twice weekly treatments to start. Then depending on your injury, you may stop treatments as soon as you have recovered, or you may want to come in for treatments bi-weekly or monthly to remind your body to stay on track for healing.
Can I combine SCENAR Therapy with other therapies and treatments?
While it won't make your injury worse to use other treatments like acupuncture, chiropractic, osteopathy and reflexology, it can confuse your body. Combining treatments also makes it harder for your physio to determine what is working and what's not working, so you may end up spending extra time and money on treatments that aren't aiding in your healing.
At the same time, some therapies can complement one another, so always chat with your physio to determine the best treatment plan for you.
Should I tell my GP I'm using SCENAR Therapy?
If you already see your GP for treatment, it makes sense to inform them you're using SCENAR Therapy – especially if you're seeing them for the same injury. As SCENAR Therapy will aid in the healing of your injury, they may reduce or even have you stop taking pain medication.
Is SCENAR Therapy safe?
Yes! The SCENAR device is used for delivering non-invasive therapeutic treatment and is approved by the FDA, TGA and MedSafe. 
 
Get Started
You Don't Need To Tolerate  Back Pain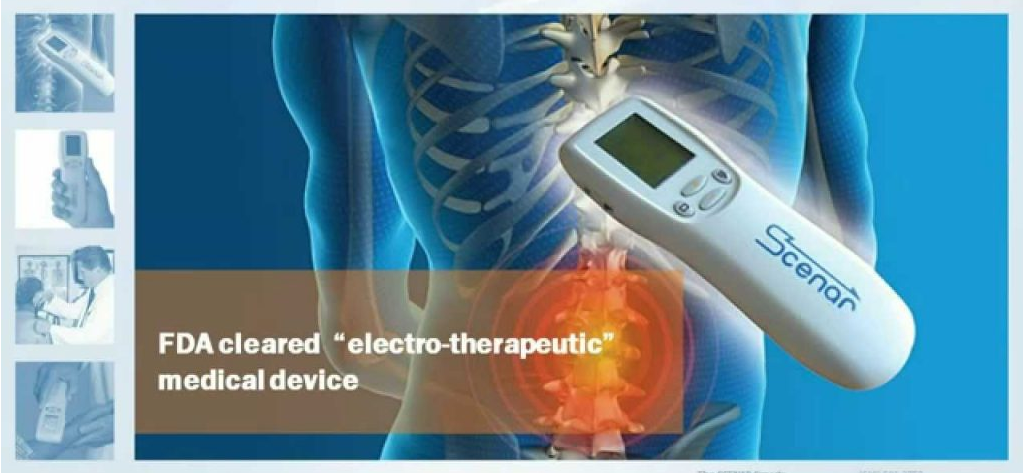 Book your SCENAR Therapy consultation today!
If you're ready to say goodbye to lower back pain, chat with our team at Back Pain Auckland. We're highly trained in SCENAR Therapy as well as being experts in lower back pain. We'll happily talk through the ins and outs of SCENAR Therapy and help you decide if this extraordinary treatment is a good fit for you.
Clinic
246 Rangatira Road
Beach Haven
Auckland 0626